Tsubaki solutions ready for the abrasive and harsh environment of the cement industry
Essential for the construction industry, cement has been in high demand since the time of the Ancient Greeks and the Romans. With current demand following the upward trend of modern development, it is imperative that cement producers enhance the reliability of their equipment. For decades, Tsubaki has provided robust conveying and power transmission solutions designed to deliver a long service life in abrasive, heavy duty cement applications.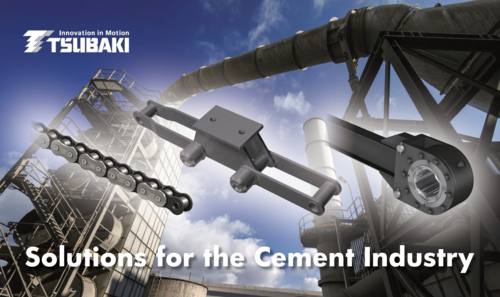 Bucket Elevator chains
Chain bucket elevators are used to transport bulk materials vertically. Demanding environments like these often challenge system reliability and require unique, innovative chain solutions. Balancing adequate strength with features that effectively defend against abrasion and corrosion can be achieved to enhance the reliable and predictable nature of an elevator's operation. Tsubaki bucket elevator chain is designed with these qualities in mind:
1. Fatigue Strength: Bucket elevators are fatigue machines that subject a chain to continuous loading and unloading cycles. High-impact, heavy-duty applications of this nature call for materials of superior strength and outstanding toughness, assembled utilizing high interference press fits. Premium grade alloy steels are typically utilized for the chain as they offer the highest level of stability and durability.
2. Wear Resistance: Bulk industrial aggregates like finish cement and limestone are highly abrasive. Over time, the infiltration of aggressive small particles within a chain's bearing area can cause the chain to wear and elongate, which eventually will impact the overall efficiency and reliability of the system, driving up maintenance costs and increasing the chance of an unplanned outage. Specialized heat treatment methods, surface coatings and seals can help protect chain pins and bushes from wear caused by destructive debris.
3. Corrosion Resistance: When elevators must transport caustic materials such as coal, synthetic gypsum or fly ash where aggressive corrosion is likely or present, heat treatable martensitic stainless steels can be utilized for the chain pins and/or bushings. In addition, seals or surface treatments are available to further limit corrosion.
Tsubaki's bucket elevator chains are engineered to resist the abrasive and demanding forces of aggregate elevators. Manufactured with premium, high strength heat-treated steels, Tsubaki's bucket elevator chains carry premier strength ratings and demonstrate superior wear resistance in the harshest environments. Tsubaki has developed bucket elevator chains for use in single strand centrifugal discharge as well as dual strand continuous discharge applications. These are usually manufactured to our BT specification which offers excellent toughness and high wear resistance. For even more demanding applications, Tsubaki has application specific solutions such as our FB, FBXA or WORKHORSE series chains.
Tsubaki FB Series large size conveyor chain has a unique mechanism to prevent chain elongation. It features a solid lubricant that is bonded between pins and bushes, and a special seal between outer and inner link plates, to prevent conveyed material from entering the bearing areas of the chain. At the same time, the mechanism prevents the solid lubricant from escaping. Due to this design, FB Series minimizes wear between pins and bushes for a longer wear life than standard Tsubaki BT series chain. In bucket elevator chains with rollers, Tsubaki's FBXA series has specially treated rollers to further reduce wear on these parts.
Tsubaki WORKHORSE Series Elevator Chains with high interference press fits deliver substantial fatigue resistance and market leading stability. Premium upgrades include stainless and/or plated pins and bushings, as well as various types of joint seals to help protect against abrasive and corrosive contaminants. Tsubaki's patented SJ3™- Sealed Joint Technology and its proprietary Titan®XL - Wear Resistant Surface Treatment are common upgrades for the WORKHORSE Series chains. These upgrades have proven to extend chain life in the most demanding applications.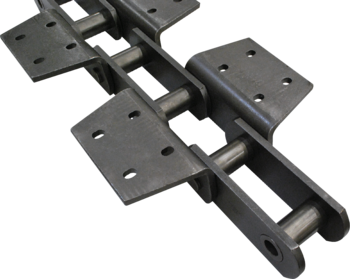 Reclaimer chains
Tsubaki offers customized Reclaimer Chains with a wide variety of options. These chains are specifically designed and manufactured to meet the unique challenges of your operation. To help battle against abrasive particles that build up between bushes and rollers, Tsubaki is proud to introduce the improved anti-dust capabilities for reclaimer chains with outboard rollers. Also widely utilized are Tsubaki's highly customizable Large Size Conveyor Chains. With a wide variety of base materials, corrosion resistant coatings, attachments and rollers available, Tsubaki is confident we have a chain solution that can meet the unique challenges of your reclaimer.
Reclaimer chains should provide the longest service life to achieve the best overall value. Chain must have large bearing areas, high hardness and deep case depth to provide the best performance. Tsubaki engineers have used these principles while retrofitting many reclaiming conveyors with chain and sprockets, achieving longer service life than OEM chains. For superior value and performance, Tsubaki chain is your best choice. Note that due to their complex requirements, reclaimer chains are manufactured on a made-to-order basis, designed and manufactured to meet the specific unique requirements of each site.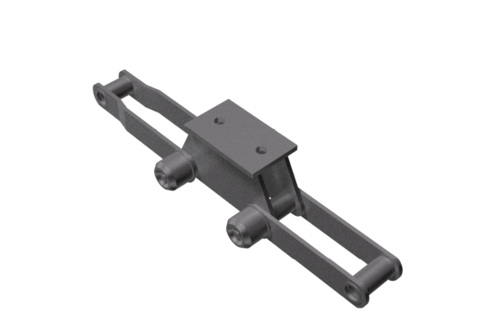 For reclaimer chains with outboard rollers, Tsubaki developed a special labyrinth construction that shuts out debris from infiltrating the outboard rollers and chain wear areas. This special construction solves the problem of debris causing premature wear. In addition, the outboard rollers are sealed for life and require no additional maintenance.
Inclined pan conveyors
Tsubaki's incline pan conveyor chains employ a high rigidity anti-bend back design to ensure excellent reliability when compared to commonly used OEM design chains. Tsubaki also ensures that 2 parallel strands of chain are accurately matched to each other which ensures even load distribution and therefore longer wear life. The matching accuracy achieved by Tsubaki far exceeds industry standards.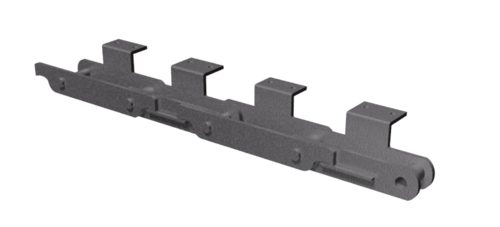 General use conveyor chain
Tsubaki is proud to offer its extensive line up of highly customizable Large Size Conveyor Chains. As these conveyor chains are highly customizable, with a variety of materials and heat treatment combinations, corrosion resistant coatings, attachments, and roller types available to match the unique conditions of your cement mill, we at Tsubaki are confident that our Large Size Conveyor Chains can meet any challenges your site has to offer.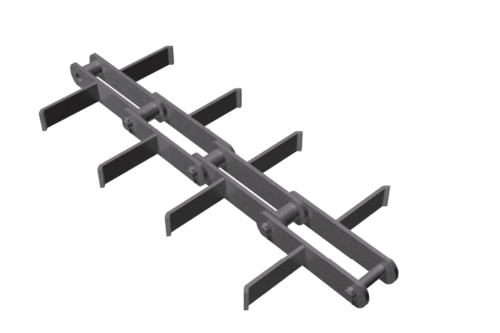 Drive chain
Selecting the right drive chain for the job is often overlooked. Harsh conditions where dust / abrasive particles infiltrate moving parts significantly shorten the lifetime of standard chain. Tsubaki's latest innovation, Tsubaki Titan chain, is designed to offer previously unobtainable wear life in harsh applications, such as those found in cement plants. The Tsubaki Titan chain features seamless bushes with lube grooves, special coated pins, nickel plated outer link plates, black oxide inner link plates and ring coining to maximise service life.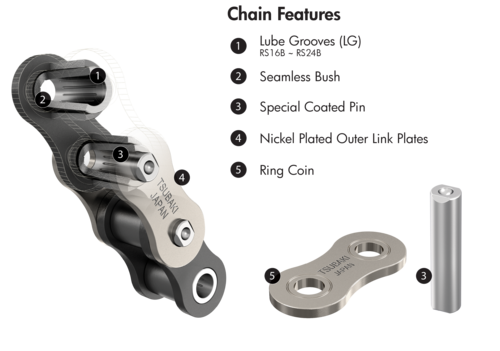 Sprockets and traction wheels
Chain and sprockets must perform together as a system to ensure overall chain reliability. Tsubaki's sprockets are manufactured from premium materials and are additionally selectively hardened on the teeth or wearing surfaces. This ensures that overall chain life is maximised. Tsubaki also provides innovative designs to make scheduled replacement of wearing parts easy without the need for dismantling the entire drive shaft.
Backstop clutches
Backstop clutches are used to prevent reverse rotation of drive shafts which may cause damage to machinery and expensive equipment. The inner race can overrun freely in one direction of rotation. Reverse rotation is instantaneously prevented by the automatic engagement of the clutch. Tsubaki has pioneered the non-rollover cam design.
Tsubaki's BS-F Cam Clutch is ideal for inclined conveyor backstop applications. When backstopping under excessive load, the inner race stays stationary thanks to the non-rollover cam. Overrunning conditions are improved too, with the inner race moving much slower while internal greasing continues leading to longer wear life. As such, the BS-F Series is designed for high torques and fitted with enhanced dust sealing and a quick change central torque arm.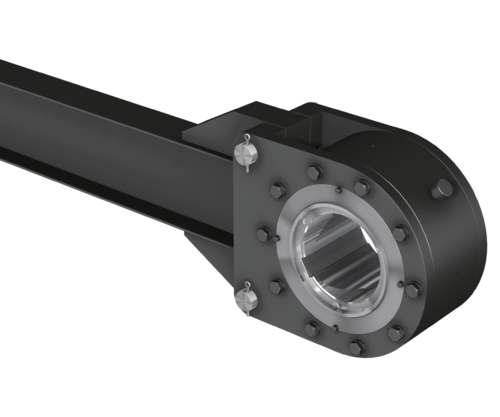 In short, Tsubaki's premium quality and robust products deliver the ultimate wear performance in the harsh conditions of the cement industry. The resulting longer intervals between maintenance / replacement work will notably reduce your Total Cost of Ownership.